Direct pay and Medicare e-commerce redesigned.
Few industry landscapes are changing as rapidly as health insurance. What was once predominantly a B2B industry is in the midst of a seismic shift to B2C. Consumers, on the other hand, are newly thrust into the seat of the decision maker. Premiums, deductibles, copays; the terminology and choices are overwhelming. Blue Cross & Blue Shield of Rhode Island knew they needed to take action to educate and better guide their customers towards not only choosing the right plan today, but building a relationship with BCBSRI that would see them through to the future.
"The focus on making the experience easy, human, and data-driven is the biggest differentiator for BCBSRI in a highly competitive industry. The new platform enhances the experience of choosing a health insurance provider by making the value exchange of buying a plan more rewarding. BCBSRI empowers the customer to make informed decisions about the things that matter most; health care for family and future."
Process
Using a mix of customer feedback and internal call center and sales data, MojoTech organized the project into two phases with strict deadlines to coincide with open enrollment periods. The first phase served as the foundation for the entire project by focusing on redesigning the new customer online shopping and application experience and incorporating responsive design. The feedback and sales funnel results from the first phase helped drive the decision making for the second phase.
The second phase extended valuable new feature implementation to current customers by granting them the ability to save or restart an application, engage with an advanced plan recommendation engine, and easily change plans across channels for the first time.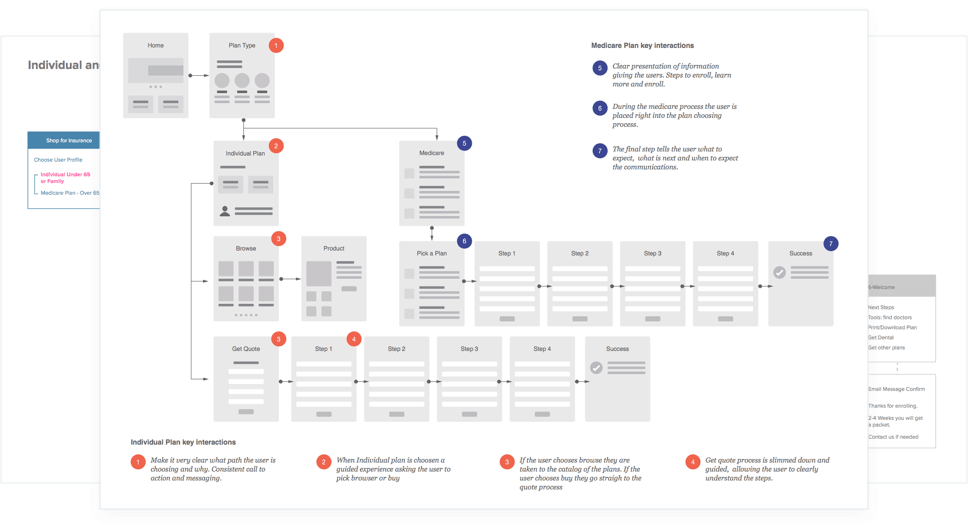 Phase one
BCBSRI recognized they had a problem to solve and were at risk of falling behind as a result of changes in the industry. The existing site was not designed with the user in mind; the UX was uninformative and the language often verbose and confusing. Site analytics showed an 85% drop-off rate right at the beginning of the customer journey. Customers often had to contact the call center or speak to a sales rep in order to gain reassurance and complete the application process. The call center and sales reps were often working off of different forms than what the customer was using and the process lacked general cohesion. BCBSRI knew they needed to shift to a customer oriented site that organized and presented information in a way that supported the customer journey.
Our two teams worked in iterative loops to communicate and assess all decisions before implementation. Our improvements focused on the following metrics:
Increase conversion rates
In order to make the site more navigable, we reconsidered the workflow design and removed an intrusive modal window that prevented potential customers from diving right in. This seemingly tiny change immediately and drastically improved bounce rates. Encouraged by this validation we continued to look for barriers that prevented customers from finding what they wanted, including reworking the information architecture, implementing UX enhancements and tools, simplifying copy language, and creating a platform customers could easily use no matter which channel the preferred to engage with; online, in-store, or via a sales rep.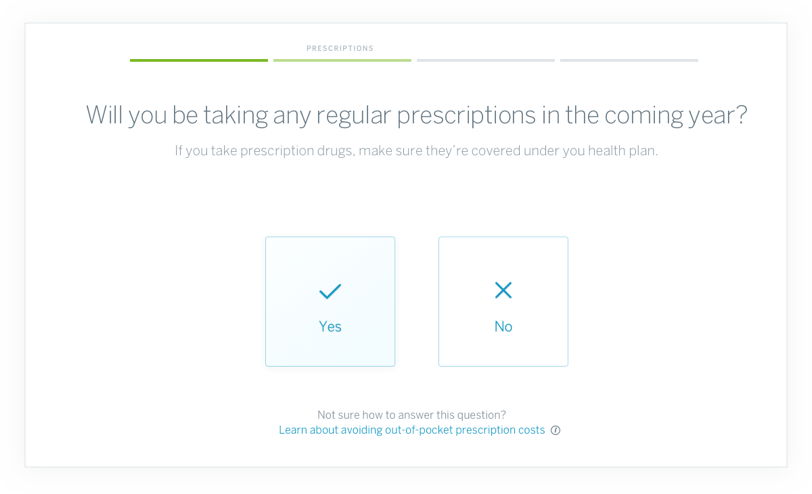 Improve product discovery
Leveraging BCBSRI customer feedback and internal research, we discerned that the first step in the customer's decision-making process was to validate whether BCBSRI plans covered the health care concerns most important to them. In order to pull up this information, however, the existing site presented the potential customer with a deluge of personal questions — giving them ample opportunity to grow fatigued or become "gun shy" and abandon the process. Our joint team was challenged to think about what was the least amount of information needed from the customer in order to provide them with a high-level overview of the plans that would fit them best.
Once customers felt confident and ready to further investigate their options we took them through a multi-step questionnaire to further filter through relevant plans and produce a preliminary quote.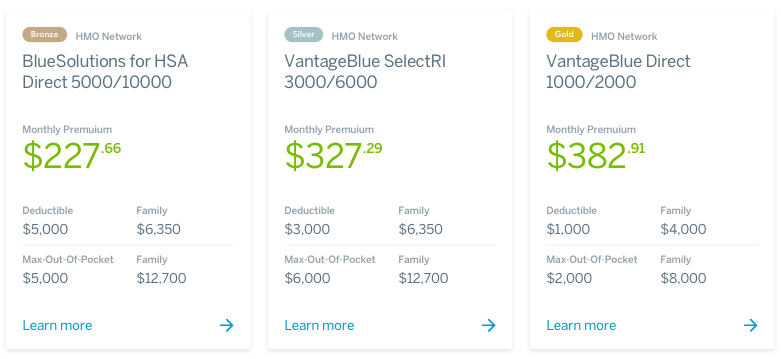 Phase two
The success of phase one motivated further improvements that not only strengthened new customer acquisition rates but extended valuable services to existing customers in an effort to improve retention rates. Uncovering the various reasons potential customers and existing customers alike might add a plan to their cart but fail to complete their purchase was a critical component to increasing conversion rates. The experience of exploring new plans needed to continue to be frictionless and offer reassuring guidance and tools.
Increase retention rates
When the customer is matched up with a plan that best suits their needs, they are less likely to switch to a competitor. But sometimes, major life changes require that a customer reassesses their current plan and explore their options.
By designing a multi-step form submission tool with a Save feature, we were able to make it easy for the customer to review new plans that fit their changing circumstances, switch plans, and add dependents. The Save feature allows customers to take their time gathering missing information, such as a dependent's social security number, which they may not have on hand at that moment in time. The user can easily save their progress and then pick up where they left off when they return.
This also reinforced the aim to make it easy for customers to complete the process via multiple channels. A customer would be able to begin the process at a retail location, aided by a sales representative, and then complete the application from home, filling in any missing information and clicking submit.

Increase operational efficiency
Having the capability to allow customers and prospects to shop and sign up for their healthcare insurance via their channel of choice also eliminates wasteful inefficiencies. Moving to an online platform meant that BCBSRI reps had access to the same tools and forms as the customer, reducing clerical errors, duplicate entry of information, and even paper waste.
"We wanted to find a better way for our customers to make informed decisions about their coverage without the established frustrations. Partnering with MojoTech was an important step in bringing innovative, user-centric technology and design to the health insurance industry, and we're proud to be one of the leaders in this space."
Result
As a result of the redesign, BCBSRI saw a 161% increase in Individual application conversions rates, a 40% increase in Medicare application conversions, a 390% increase in Member Events RSVPs, and a 30% increase in cross-sell.